In the academic exchange cooperation between students and lecturers of the Faculty of Road and Bridge Engineering, Faculty of Architecture (University of Science and Technology – University of Danang), and Utsunomiya University, University of Chiba (Japan), since 2017, the program has successfully organized 5 workshops held in Vietnam and Japan. This year, in the spirit of continuing the success of previous workshops, the two universities continue to coordinate to organize the 6th international workshop to create an innovative space for students to exchange academic knowledge and friendship, understand more about different cultures as well as cooperate in developing collaborative projects between the lecturers, bringing a sense of friendship between the two universities.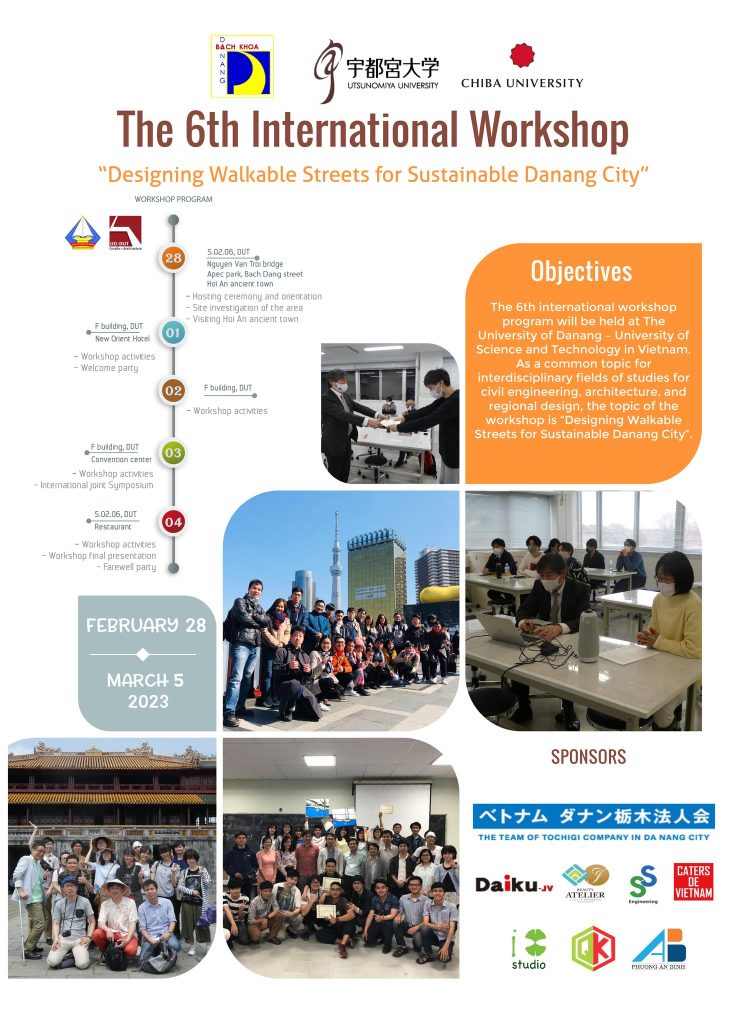 This year's program was held in Da Nang (University of Science and Technology), with the participation of 60 students and lecturers, professors of Danang University of Science and Technology, and Universities in Japan related to the field of urban landscape design towards a sustainable Da Nang city. The program will take place from February 27th, 2023, to the end of March 5th, 2023. Students and lecturers of the two units will participate in practical project cooperation with the theme "Designing Walkable Streets for Sustainable Danang City – Nguyen Van Troi bridge area" to bring many benefits to many people and the cooperation of the two universities, as well as the successful development of the livable Da Nang city.
In addition, it is very honored to have the participation and sponsorship of many agencies and companies such as: the Consulate General of Japan in Da Nang; The Team of Tochigi Company in Danang city; DAIKU-JV; BEAUTY ATELIER J-First Danang City; SS Engineering Co., LTD; Caters de Vietnam Co., LTD; I8 Studio JSC; company PHUONG AN BINH JSC; Quy Khanh Consulting and Training Co. Limited. This is really an extremely positive and respectful signal to domestic and foreign business units that have an interest in and accompany the program and long-term cooperation, and comprehensive development in all areas in the future.